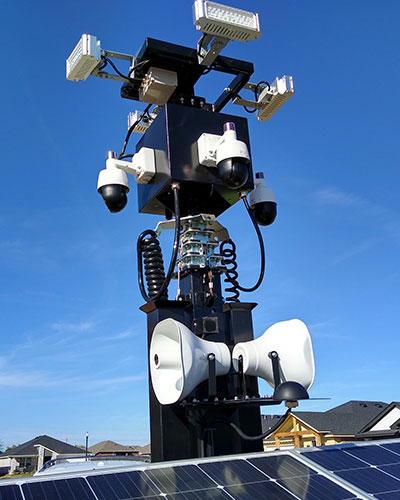 Trusted By Clients Throughout the Mid West
Our video surveillance trailers make securing your jobsite a simple, streamlined process. Customers who purchase from us can request field service, while those who lease can take advantage of our maintenance plan. Both are ideal for construction firms that lack experience in surveillance, solar power or electrical engineering.
Service Throughout the MidWest
The region we service with video surveillance trailers encompasses Oklahoma, Kansas, Missouri, Northwest Arkansas and North Texas, also known as the Quad State Area or TOLA. Our customers span Oklahoma City, Tulsa, Dallas, Ardmore, Lawton, Little Rock, Fayetteville, Springfield, Wichita and Kansas City, and their respective surrounding areas. If you are unsure whether your location is in our service area, please contact us.
Live Video Monitoring
Security Trailers partners with a UL listed monitoring center where live agents respond to alarm signals from our video surveillance trailers 24/7. Monitoring agents are ready to intervene in criminal activity by issuing verbal warnings and dispatching police. At the same time, customers receive a mobile alert that an alarm has been activated.
Mobile App Access
As our customer, you'll have access to your video anytime via a user friendly mobile app powered by Davantis. If you have our video surveillance trailers at multiple sites, the app enables you to view them all through this single portal on your own smartphone or device. Search for past security events and view them on demand.
Contact Us Today
To request a free demo of our video surveillance trailers or get more information on how to buy or lease from us, contact us today. We look forward to helping you.